Rally Catalunya Històric
Rally Catalunya Històric: More than 600 kilometres for the 52 classic cars entered
28/02/2018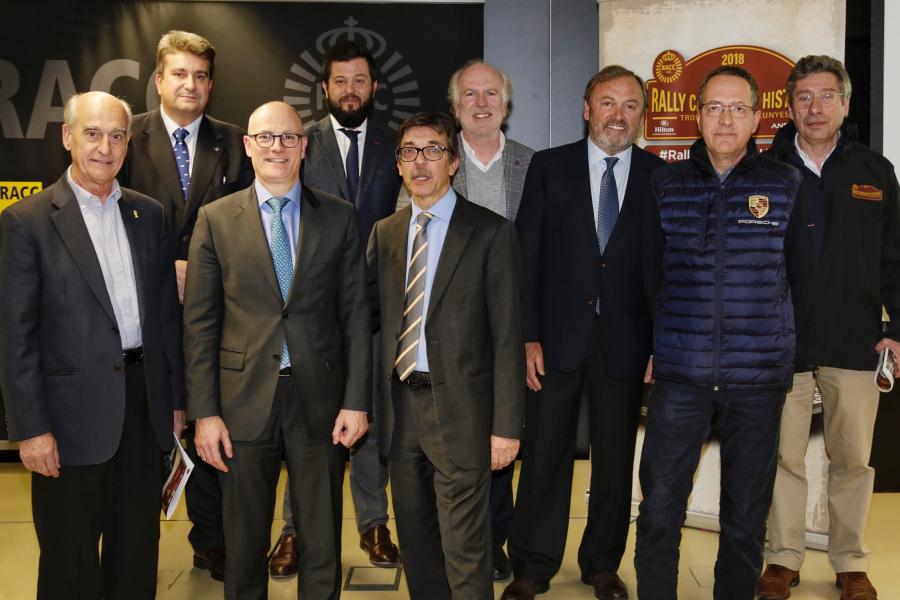 The event will be staged on 2 and 3 March with start (14.45h) and finish (19.45h) in Barcelona
The itinerary and the entry list of the 2 Rally Catalunya Històric "Trofeu Dues Catalunyes" were presented today at the Barcelona headquarters of the RACC. The event is a regularity race for classic cars on closed roads that offers top services to the participants and is therefore considered as the only Premium event in this speciality.
The entry list is made up of 52 crews with cars that were manufactured before 1984. It will consist of two legs with a linear itinerary of 636.47 km including 14 stages with controlled regularity on closed roads, two of which will be located in France. This itinerary is what gives sense to the 'Two Catalonias Trophy', referring to an event that was staged between 1960 and 1965, organised by the RACC as well, with a similar route.
The cars will take the start at 14.45h on Friday, 2 March, from Avenida de la Catedral in Barcelona. After two days racing, the participants will drive back to Barcelona and arrive from 19.45h onwards at the hotel Hilton Diagonal Mar Barcelona, the venue of the closing dinner and the prize-giving.

The first crew to take the start will be the winners of the first edition, Carles Miró-Iván Matavacas, at the wheel of their Porsche 911 SC, a brand which has the most number of representatives in the entry list with a total of 21 machines of almost all models. Right after the winners of the 2017 edition, the start signal will be given to a former Rallye Catalunya winner, Salvador Cañellas, with Jordi Parro as co-driver in a SEAT 124 1840 Gr.4. Then, and with a start interval of 1 minute each, the remaining participants will be leaving the parc fermé, which will be filled with jewels of motor racing.
The launch of the Rally Catalunya Històric gathered drivers, co-drivers and representatives from the brands that are making this event possible: the official sponsors Andbank and Hilton Diagonal Mar Barcelona, and the collaborators that offer all they support, such as the Barcelona City Council, Caves Mestres, BRM Chronographes, AutoSport Hebdo, Sport and Vallespir Retro Courses.
A selective itinerary filled with novelties
The 2 Rally Catalunya Històric "Trofeu Dues Catalunyes" will have an itinerary of 636.47 km,  145.17 km of which will be of controlled regularity, distributed into 14 stages on closed roads, all of them being different (no stage will be repeated). All of the stages will have average speeds of up to 55 km/h and two types of averages to choose from.
The start will be given on Friday 2 March (14:45h) at Avinguda de la Catedral in Barcelona, after the lunch that the participants will have at Hotel Barcelona Catedral. The first three stages will be Rocafort (16:18h), Talamanca (17:06h) and L'Estany (18:02h), and the first regrouping will be at the 1-Michelin-star restaurant Can Jubany, where chef Nandu Jubany will offer an exclusive gastronomic detail. Three additional stages, run at night, will complete the first leg that will finish in Mas Solà (from 21:00h) in Santa Coloma de Farners. These three stages will be Sant Julià (19.20h), Collsaplana (19.37h) and Cladells (20.15h), all of them highly valued in the history of Rallye Catalunya. Participants will have dinner and sleep at Mas Solà.
The second leg of the rally will start at 08:30h on Saturday, 3 March, heading north to cross the French border, with 8 special stages ahead: Les Serres (9:03h), Les Encies (9:31h), Capsacosta (10;34h) and, on French grounds La Forge del Mitg (12:04h), after which all participants will regroup in La Domaine de Falgós, an exclusive golf club, where participants will have lunch.

The four remaining stages will take the rally and the participants back to Barcelona. First they will cover Col de Sous (14:43h), still in France, and then Les Llosses-Alpens (16:36h), La Costa dels Gats (17:25h) and La Guàrdia (18.03h), to continue to the Hotel Hilton Diagonal Mar Barcelona, where the first participant is expected to arrive at 19:45h. This hotel will be the venue of the closing dinner and the prize-giving (from 22:00h) with the attendance of important authorities.
The winner of the first edition opens the race
A really select group of crews and machines will be trying to enter their name into the list of winners of an event that recalls the great years of road racing and was won in its first edition by Carlos Miró-Iván Matavacas (Porsche). Worth mentioning is also the presence of great names of Spanish regularity, with a large experience in this speciality, such as: Víctor Sagi Montplet (Porsche 911 S), son of Víctor Sagi Vallmitjana, winner of the first edition of the "Dues Catalunyas"; multiple winner of this type of races, José Manuel López-Gerard Ferrer (VW Scirocco); as well as the female team made-up of Tere Armadans-Anna Vives (VW Golf GTI), who finished fifth last year, etc.
Special mention must be given to the members of the SEAT Coches Históricos team, that will be participating in this race with a total of five vehicles, lead by the already mentioned Salvador Cañellas. The team is completed by RACC President, Josep Mateu-Kim Vilatarsana (Seat 124 Sport 1600); Circuit de Barcelona-Catalunya President, Vicenç Aguilera-Elisabet Aguilera and the journalist Josep Viaplana-Carles Jiménez, both crews with a Seat Ibiza 1.5 GLX. The fifth car will be driven by Ángel Madrazo, who will have RACC General Manager, Xavier Pérez, as co-driver (Seat Ronda Crono 2.0).
The entry list includes many other renowned names in classic regularity: David Nogareda-Sergi Giralt (Porsche 911 RS 2.7); Joan and Álvaro Rollán (Porsche 911 T 2.2), Oriol Vilanova-Daniele Rizza (BMW 2002 Turbo); Kini Muntada and his co-driver, winner of the Dakar Rally, Lucas Cruz (Porsche 911 Carrera 3.2); Josep Maria Molas-Ramon Ferrés (Ford Escort MK II); Joan Pedragosa-Josep Beltri (BMW E21); Antonio Arderiu-Luis Góngora (Porsche 914/4); Antonio Tejón-Uko' Segurado (Audi Quattro) and many others.

And we shouldn't forget the presence of great French and Belgian specialists, such as Anthony Guillemat-Christophe Cruzet (Porsche 911 SC), David and André Exposito (Ferrari Dino 308), Jacques Evrard-Yves Noelanders (Porsche 911), Bernard Van Den Broeke-Lluís Sales (Alpine-Renault A-110) or Serge Adriaens-Freddy Moors (Porsche 911 2.4S, among many others. The entry list of the rally includes participants from Belgium, France, Italy and Turkey.
The 2 Rally Catalunya Històric "Trofeu Dues Catalunyes" confirms the will of the RACC of organising a regularity race for classic cars with quality and the philosophy of a Premium rally.
Information on the event: www.rallycatalunyahistoric.com including the complete itinerary, the regularity stages, the entry list and the chance to make a follow-up of the rally.