Rally Catalunya Històric
Start of the 2nd Rally Catalunya Històric - "Trofeu Dues Catalunyes" in Barcelona
02/03/2018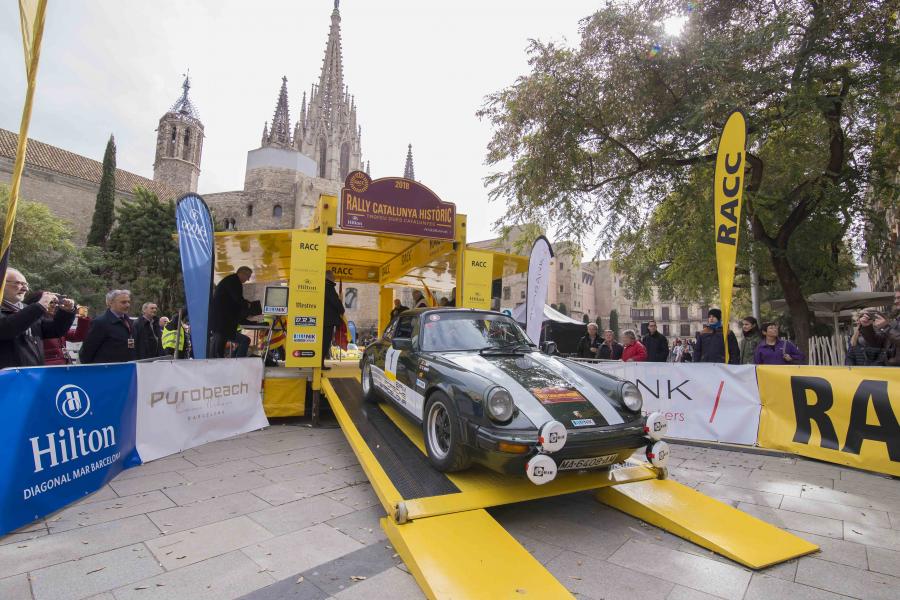 The 1st leg, with 6 regularity stages on closed roads, will finish in Santa Coloma de Farners and the 2nd leg will be run tomorrow, with 8 stages, 2 of them in France and back to Barcelona
The 2nd Rally Catalunya Històric "Trofeu Dues Catalunyes", the regularity event for classic cars on closed roads organised by the RACC, started today. Carles Miró and Iván Matavacas (Porsche), winners of the previous edition, drove down the start podium on Avenida de la Catedral de Barcelona at 14:45 hours, followed by the remaining 48 participating vehicles.

With a 1-minute start interval between them, the participants took the start and headed north. Behind the vehicle with the no. 1, the next to take the start was former Rallye Catalunya winner, in its speed period, Salvador Cañellas, this time at the wheel of a SEAT 124 Especial 1800 Gr.4 replica, with co-driver Jordi Parro, followed by the rest of the 49 teams. The 2nd Rally Catalunya Històric "Trofeu Dues Catalunyes" is made-up of two legs on two days, and the participants will be coming back to Barcelona tomorrow, Saturday, to be precise, to the Hotel Hilton Diagonal Mar Barcelona, starting from 19:45h after a linear route of more than 636 kilometres (147 regularity with 14 stages on closed roads), all of them different and two of them in France.

The authorities attending the start podium included, amongst others Maite Fandos, Deputy Delegate for Sports of the Barcelona County Council; Gaby Arranz, Events Director of the Barcelona City Council; Oriol Marcé, Subdirector General for Sports Activities and Infrastructures of the Catalan Government; Joan Torras, Secretary General of the RACC Board of Directors, who were joined by former Mayor of Barcelona, Xavier Trias, amongst others. Raúl Martínez and Joachim Hartl attended as well representing the two sponsors of the rally, i.e. Andbank and Hilton Diagonal Mar Barcelona, respectively. The event does also count on the support of the Barcelona City Council, Caves Mestres, BRM Chronographes, AutoSport Hebdo, Sport and Vallespir Retro Courses.

First Leg: 6 Stages
After driving down the podium and along Calle Joaquim Pou, the crews continued on Vía Layetana to leave the city and race the first of the special stages "Rocafort" at 16:18h, which will be followed by "Talamanca" (17:06h) and "L'Estany" (18:02h). After these stages, there will be a 15-minute regrouping in Can Jubany, where a huge motor sports fan, namely chef Nandu Jubany, will offer a special gastronomic detail, thus contributing to the philosophy of exclusiveness and quality of this Premium Rally organised by the RACC.

The first leg will finish at night (from 21:00h) at Hotel Mas Solà in Santa Coloma de Farners, following another three stages: "Sant Julià" (19:0h), "Collsaplana" (19:37h) and "Cladells" (20:15h). After a very intense afternoon, the participants will be able to rest at the hotel after having dinner.

Second Leg: 8 Stages and France
The start from Hotel Mas Solà is scheduled for 08:30h on Saturday ,3 March. Before crossing the border, there will be three special stages, "Les Serres" (9:03h), "Les Encies" (9:31h) and "Capsacosta" (10;34h). Then the crews will cover stage four in France, "La Forge del Mitg" (12:40h), before the regouping and lunch at the exclusive Golf and Spa Resort Domaine de Falgos.

The return to Barcelona will start with "Col de Sous" (14:43h), still in France, followed by "Les Llosses-Alpens" (16:36h), "La Costa dels Gats" (17:25h) and "La Gua%u0300rdia" (18:03h). Once the special stages with controlled regularity that will proclaim the winner of this 2nd Rally Catalunya Històric "Trofeu Dues Catalunyes" are finished, the crews will continue to the official finish of the event, located at Hotel Hilton Diagonal Mar Barcelona, where the first participant is expected to arrive at 19:45h. The dinner and prize-giving (starting from 22:00h) will also take place at the hotel, with the attendance of the main authorities.

The best specialists
Among the participants looking to be part of the history of this second edition of the Premium regularity rally, there are many of the great Spanish specialists, but also French, Belgian, Italian and Turkish crews, an internationalization that shows the growing sporting interest of this event. In addition to Miró-Matavacas (no. 1) and Cañellas-Parro (no. 2) leading the team SEAT Coches Históricos that has entered another four vehicles it is worth mentioning other significant Spanish regularity crews, such as Víctor Sagi-Víctor Sagi (Porsche 911 S no. 3), Jose%u0301 Manuel Lo%u0301pez-Gerard Ferrer (VW Scirocco nº 4), Tere Armadans-Anna Vives (Volkswagen Golf GTI no. 5), Joan and A%u0301lvaro Rolla%u0301n (Porsche 911 T 2.2 no. 6), David Nogareda-Sergi Giralt (Porsche 911 RS 2.7 no. 16), Oriol Vilanova-Daniele Rizza (BMW 2002 Turbo no. 43); Kini Muntada and the Dakar-winning co-driver, Lucas Cruz (Porsche 911 Carrera 3.2 no. 18); Josep Maria Molas-Ramon Ferre%u0301s (Ford Escort MK II no. 9); Joan Pedragosa-Josep Beltri (BMW E21 no. 8); Antonio Arderiu-Luis Go%u0301ngora (Porsche 914/4 no. 22); Francesc Segú-Joaquim Segú (Volkswagen Golf GTI no. 19) and a long etc.

There will also be great duos from abroad, such as Anthony Guillemat-Christophe Cruzet (Porsche 911 SC gr. 4 no 7), David and Andre%u0301 Exposito (Ferrari Dino 308 no. 34), Jacques Evrard-Yves Noelanders (Porsche 911 no. 15), Bernard Van Den Broeke-Llui%u0301s Sales (Alpine-Renault A-110 no. 30) or Serge Adriaens-Freddy Moors (Porsche 911 S 2.4 no. 14), among many others.

Among the participants, and as members of the team SEAT Coches Históricos, there are RACC President, Josep Mateu (Seat 124 Sport 1600 no. 17); Circuit de Barcelona-Catalunya President, Vicenç Aguilera (Seat Ibiza 1.5 GLX no. 19); and RACC General Manager, Xavi Pérez (Seat Ronda Crono 2.0 no. 27).

All details of the 2nd Rally Catalunya Històric "Trofeu Dues Catalunyes", including the complete entry list, itinerary, maps and results are available at www.rallycatalunyahistoric.com. During both rally days, the classifications can be followed at www.blunik.com.